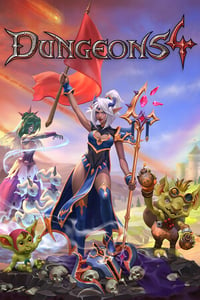 Dungeons 4
Skladem > 5 ks


Aktivační klíč do 5 minut na Vašem emailu
Edice hry
Hry ze stejné série
Dungeons 2

Pán jeskyně se vrací – a tentokrát to myslí vážně! V uhasíte neukojitelnou žízeň Temného...

99 Kč
329 Kč

Dungeons 3

Ve třetím díle Dungeons se Pánu jeskyně úspěšně podařilo sjednotit síly zla a vybudoval kořeny své...

129 Kč
349 Kč
Popis hry
Everything is better with Dwarves™: The Dwarves have arrived to build their underground strongholds and the hardy little fellows (although they don't like being called that) compete with the Ever-Expanding Evil for space and resources.

It makes your Dungeon great again: Dungeons are up to four times larger than before and there are many more creatures who wait for the All-Commanding Evil's orders to conquer the Overworld. Now the time has come for massive armies and truly sprawling dungeons!

Ripe for the taking: The Overworld is bigger than ever before. Gain Evilness by beating Mini Bosses like the obsessively harmonious Unicorn and use it to transform the Overworld into stunning biomes of pure evil.

New and shiny: An ability-based Perk system for Thalya, the Absolute Evil's trusted *cough* and most loyal subordinate, grants her impressive new powers. The Absolute Evil can now enjoy taking over the world, governing the creatures and slapping subordinates even more with the customizable Evil Hand.

Minions, everywhere: The Horde, the Undead and the Demons wait to do the Absolute Evil's bidding, with more creatures than ever eagerly following the gesturing Evil's orders, and Snots will play a much more prominent role this time.

Many ways to tell the story: A long campaign, narrated by the beloved English Narrator from previous titles, as well as several skirmish maps all to challenge your rule as the Absolute Evil.

Change the world: Spread your Evilness across the Overworld to bring lush and green environments over to the dark side, now shining even more vibrantly and beautifully evil as you spread your evilness across many new biomes.

Work together, slay together: 2-player co-op multiplayer with both players managing one Dungeon together. All maps from the skirmish mode and the campaign are playable in co-op.
O hře
Once upon a time in a realm far, far away, everything was lush and green. The unicorns mingled among the trees and the elves and humans lived peacefully in harmony with their surroundings. Yet somewhere at the edge of a clearing half-hidden among the trees, obscured by a rising veil of fog in the hazy half-darkness of a weather-beaten hut, a shape huddles over a large and ominously glowing crystal ball. A mumbling voice sings ancient formulae, urging the swirling glowing mists inside the crystal to part and give an insight into the future.

"All is in flux, nothing seems certain. Come, oh vagaries of space and time, separate the veil and show us what is yet to come", the voice grumbles with the hint of an eye faintly reflecting the glow in front of its hood. The shape's audience, only barely visible in the dim light, leans in closer and listens intently. "Time ebbs and flows, forming pools and wrinkles… but when the mists part only vague images rise from beyond the veil. Shhhh—don't come too close, you don't want to disturb my delicate magical weavings do you?" The shape, still bent over the orb, mutters and shoos the other back a bit more into the shadows. "Ah, now it seems to be clearing a little. I can see… something… several somethings, hints of voices echoing in the haze. A baby, something happening on Hill Doom and the coming together of the Council of Snots – what could all this mean?"

In a flash, the light reflected in the eye turns red and a distant evil laughter echoes through the woods. Stay tuned for the return of the Soothsaying Evil!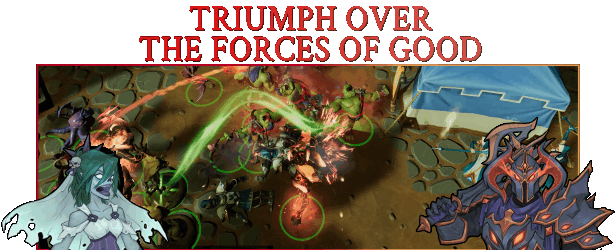 The Absolute Evil and its trusted *cough* servant, the Dark Elf Thalya, return in Dungeons 4 after the events of its fabulous predecessor to bring about their triumph over the forces of good once more.
Build a cozy and comfortable Dungeon to suit your creatures' needs and rule over them, then send them out into the Overworld to kindly remind the good people living there that the Absolute Evil rules over their lands. Gather your Evilness in new and dynamic ways and unleash it upon the lush green forests and plains of the Overworld to turn them over to the dark side. But make sure that your Dungeon is well-secured by traps and defended by your creatures, for those pesky Overworlders won't just twiddle their thumbs while you turn their land into the Absolute Evil's most pleasurable holiday paradise.
But what is that noise? "Gold, gold, gold and gems, gold and gems and gold!" The ancient song echoes throughout the underworld, accompanied by the clanging steel of hammers and axes. The Dwarves have arrived to claim their share of the abundant resources and together with the Elves and Humans of the Overworld, they send out their raiding parties to find the Dungeon's heart.
Dungeons 4 keeps the spirit of its predecessor, but everything is now bigger, better, and with even more dynamic Evilness™.
HW požadavky
Jedná se o elektronickou licenci, proto je potřeba být stále připojen k internetu.
Minimální:
Vyžaduje 64bitový procesor a operační systém

OS: TBD
Doporučené:
Vyžaduje 64bitový procesor a operační systém

OS: TBD
Jak aktivovat Vaši hru pro Steam
Přejděte na stránku http://store.steampowered.com/about/
Klikněte na tlačítko "Instalovat Steam"

Aplikace se stáhne do počítače. POZOR! Hru není možné aktivovat ve webovém prohlížeči.
Aplikaci spusťte a přihlaště se uživatelským jménem a heslem.
Pokud účet ještě nemáte, "Vytvořte si ho ZDARMA" kliknutím na odkaz vpravo dole.

Po přihlášení, klikněte na odkaz "+ Přidat hru" ve spodním levém rohu aplikace.
(Nebo klikněte na záložku "Hry" v hlavním menu).
Zvolte "Aktivovat produkt ve službě Steam..."

Na obrazovce se zobrazí výzva k potvrzení "Aktivace Produktu" a poté "Dohoda o užívání služby STEAM"
Oba kroky potvrďte tlačítkem
Nyní se zobrazí výzva k zadání Vašeho zakoupeného kódu.
Steam ověří Váš kód během pár vteřin.

Nyní je hra viditelná ve vašem katalogu her
Klikněte na ní a začněte stahovat
Nyní můžete hru spustit a hrát.
Steam je dostupný pro tyto systémy: PC, Mac, and Linux
Pokud potřebujete více informací, nebo pokud máte nějaké dotazy, neváhejte nás kontaktovat.